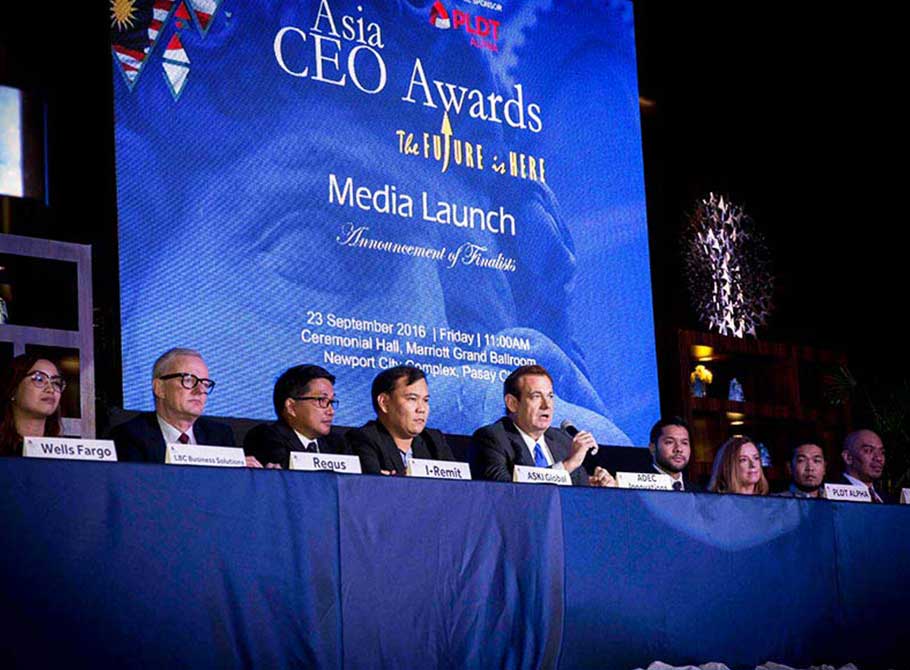 (Manila, Philippines – 23 September 2016) ADEC Innovations, an impact investing company that designs and builds a technology portfolio capable of delivering Environmental, Social and Governance (ESG) solutions that generate social and environmental impact, will confer the "Green Company of the Year Award" at the 2016 Asia CEO Awards.
In a recent press conference, ADEC Innovations CEO James M. Donovan announced the Green Company of the Year finalists. They include Alalay sa Kaunlaran Inc. (ASKI), Imperial Homes Corporation and Sony Global Business Services. The winner will be revealed during the Grand Awards Gala on October 18, 2016, at the Manila Marriot Hotel.
For three years now, ADEC Innovations has continued to honor corporate and non-corporate organisations for exemplifying strong leadership and commitment in sustainability and environmental protection. It named San Carlos Solar Energy (SaCaSol) and E-motors Incorporated as Green Companies of the Year in 2014 and 2015 respectively.
SaCaSol is the country's first utility scale solar farm that currently delivers over 70 million kW hours to the local grid; while E-motors is the first manufacturer and assembler of zero-emission, electric three-wheelers (e-trikes).
The Asia CEO Awards is the largest business awards event in the Philippines and one of the largest events of its kind in the Asia Pacific region. Launched in 2010, it aims to promote the ASEAN region as a premier business destination.
ADEC Innovations has received its own share of Asia CEO awards. In 2014, it was recognised as the Technology Company of the Year through its member company, Envirosite Corporation. Its CEO, James M. Donovan, and CFO, Carol Esguerra, won the Executive Leadership Team Award in 2013. ADEC Innovations was also a consistent finalist in the Most Innovative Company of the Year category in 2011, 2013 and 2014.