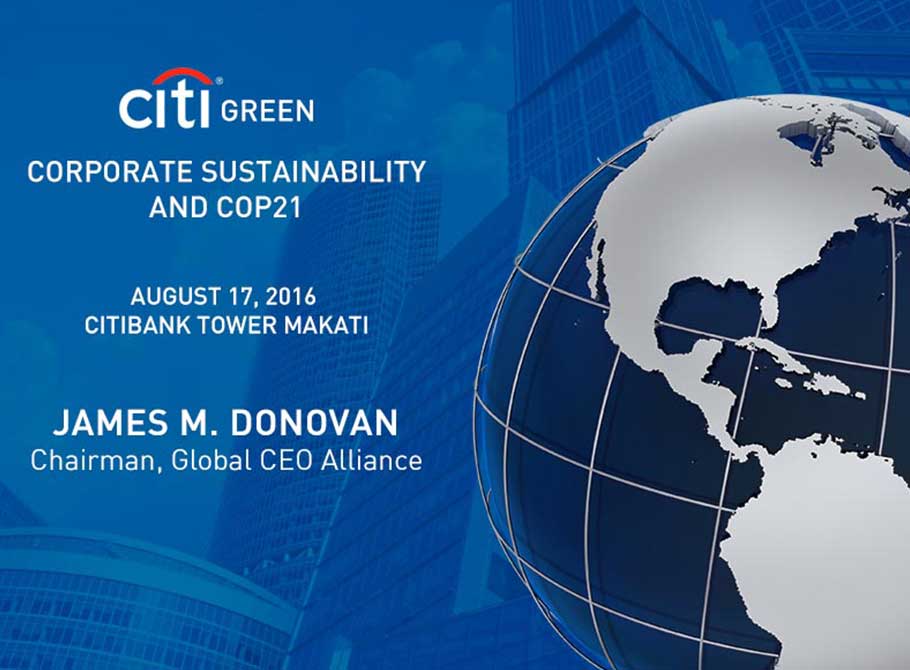 ADEC Innovations CEO and Global CEO Alliance Chairman Mr. James M. Donovan will be the keynote speaker on Green Talk, a corporate sustainability lecture organised by Citi Green Team Philippines on August 17, 2016 at Citi Tower in Makati City.
Mr. Donovan was invited by Citigroup's sustainability strategy team to share his insights on corporate leadership in sustainability and impact investing as well as the results of the COP21 conference in Paris.
This particular forum is an exclusive high-level event with Citigroup's Chief Country Officer for the Philippines, Mr. Aftab Ahmed, among the attendees. Mr. Donovan's participation in such event is part of his advocacy and long-term effort to reach out, educate and partner with other business leaders in addressing the urgency and opportunities for growth in sustainable development.
ADEC Innovations is a impact investing company that designs, develops and delivers a diverse data management portfolio of Environmental, Social and Governance (ESG) solutions. Global CEO Alliance is a platform for multi-stakeholder partnership of chief executives, governments and individuals towards a programmatic approach in addressing the challenges of the United Nation's Sustainable Development Goals.